Prosper.com has now started giving out $25 referral fees if you sign up through an affiliate link!
It doesn't matter whether you're a lender or a borrower, you still get the $25. Don't know when it started but it ends on August 31st 2007.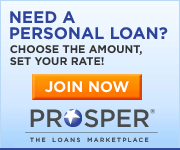 Great time to join if you already haven't. I've been lending out money at around 18%.